Passion for Teaching
---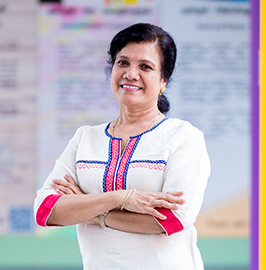 In addition to being a Lead Tamil Teacher at Bendemeer Primary School, Mdm Serene has been juggling her role as a SINDA Liaison Officer the past 14 years.
In her many years of teaching, Mdm Serene has met hundreds of children. Among them, the ones she remembers are those who overcame their difficult family backgrounds to make it through to Secondary School, with help from Project Teach. It's what inspires her to keep going as a SINDA Liaison Officer (SLO).
"When we see that a student isn't getting enough support at home, we teachers in school come together to help the student. It's good that SINDA has a platform for us to tap on," Mdm Serene shares. Despite the extra effort needed to ensure that the Project Teach programme runs smoothly and successfully, she says it is all worth it.
---