An Eye on the Future
---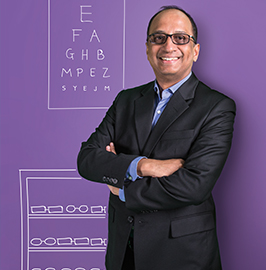 Mr Jayanth Bhuvaraghan, 55, is a warm-hearted man who feels that bettering yourself begins with helping others. As the Chief Corporate Mission Officer at Essilor Singapore and a member of the Indian Business-leaders' Roundtable, Mr Jayanth was always looking for opportunities to give back to the community. By working with SINDA, he was able to do so by providing the children and youth with something they sorely needed – better vision. Mr Jayanth firmly believes that better education starts with better vision because,
"Being able to see and read properly will motivate students to become more interested in studying and this will lead to better grades."
That is why he decided to use his experience, networks and knowledge to initiate the SINDA-Essilor Charity Vision Screening which provided children from low-income families with spectacles. Through his efforts, nearly 300 students received free eye tests and spectacles.
Mr Jayanth hopes to lead by example and inspire others to help the less privileged by continuing to contribute in any way he can.
---