Bringing up Dad
---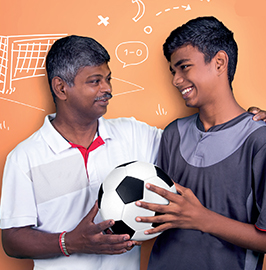 When you think of a loving dad, what comes to mind is a patient, charismatic man who always inspires you. That was not Mr Gunesekaran Suppiah. He was a caring 51 year old who loved his son and daughters more than anything in the world, but he just couldn't connect with them.
A traditional father with a hot temper, Mr Gunesekaran had problems seeing eye to eye with his modern children. Talks and requests would often lead to heated arguments on a regular basis. He would almost always resort to shouting when they wouldn't listen, and a part of him didn't like what he was doing. Not wanting a strained relationship with his children, Mr Gunesekaran did what only a true father could – he put his children first.
He decided that he would be the change he wanted to see in his family. If he wanted his children to become the men and women he'd always hoped them to be, he had to start leading by example. This led him to SINDA's parenting workshops. Change didn't happen overnight but Mr Gunesekaran could see the value in the workshops, and he kept at it. He slowly learnt how a father's role in the family went beyond just providing financially for them. He discovered different parenting techniques and learnt the importance of patience and how to manage his temper. Most importantly, he started to listen to what his children were trying to say and see things from their perspective. Mr Gunesekaran wouldn't say he's a fully changed man. He's far less hot tempered and more patient with his children. Nowadays he works with his wife to better understand his children.
"SINDA helped me to find the words I've always wanted to say… and become a better father."
From sharing the love of soccer with his son to spending quality time with his daughters, Mr Gunesekaran now plays a more active role in his children's lives and he loves it.
---