Inspiring Youths!
---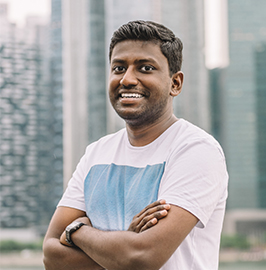 Participating in the 2015 ITE Leadership Programme (ITELP) so inspired Daniel Ravindran that the third-year Singapore Polytechnic Electrical and Electronics Engineering student squeezed out time from his full-time studies to return as a mentor in 2016 and back again as programme co-lead in 2017.
Time well spent, is how Daniel sees his journey with ITELP. "ITELP gave me a sense of direction and taught me a lot about being responsible and caring for the community," he says about his stint as a participant three years back. "It changed me from being someone very quiet and easily distracted to someone who's able to set goals and chase after them."
One of his goals was to help other youths—something he feels he has achieved as a co-lead for ITELP 2017, seeing new teams and individuals progress. Although it was a challenge to juggle his time, Daniel says he is grateful for the opportunity. Being part of the annual five-month leadership programme for ITE students twice in different capacities has afforded him new perspectives and made him more adaptable.
Daniel Ravindran, 25
ITELP 2017, Co-Lead
---