Never Stop Learning
---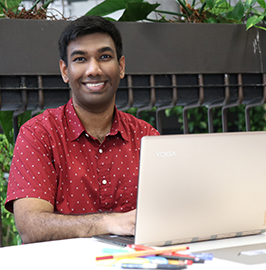 "Biology is a subject that is constantly evolving and there are always mysteries that are yet to be solved, which attracted my attention to it," says Bernard Patrick, a recipient of the Singapore Chinese Chamber of Commerce Foundation (SCCCF) – SINDA Scholarship 2017.
Bernard was determined to pursue a career in biological sciences after completing an overseas internship during his polytechnic years. However, his father's retrenchment in late 2017 meant that Bernard had to balance a part-time job and studies. Subsequently, he decided to apply for the SCCCF-SINDA Scholarship. "SINDA played a key role as a pillar of support during my tertiary education by graciously offering me the scholarship, I was able to focus on my university studies without worrying about my financial issues," Bernard says. "I would encourage anyone in a similar situation to apply for scholarships, as they not only encompass monetary assistance, but entail networking opportunities also."
Upon being awarded the scholarship, Bernard gained exposure to a diverse platform of people from various disciplines. Through networking, he was fortunate to meet and discuss his findings with researchers from established institutes such as A*STAR. On his decision to someday specialise in the field of cancer research, Bernard says that he would like to do his part to keep the disease at bay through his research efforts.
The 24-year-old is currently pursuing his Bachelor's in Biological Sciences at Nanyang Technological University (NTU) and aims to work for the National University Cancer Institute one day. In the long-term, Bernard plans to contribute to society by helping the younger generation achieve their goals. A piece of advice for his peers? "Never stop learning. The people you meet and the experiences you come across will inspire you to improve on your strengths and weaknesses. Forge lasting bonds with positive people and surround yourself with them – they will bring out the best in you!"
---