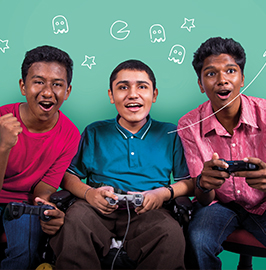 Jagdish Singh, 14, didn't get the same head start in life as most boys his age did. At the tender age of 10, he lost his mother. He was diagnosed with muscular dystrophy and has been confined to a wheelchair since a very young age. This always made him feel inferior to others, fearing that they were looking down on him.
His lack of self-confidence distanced himself from his friends, Niyaz and Shahim, whom he has known since Primary 4. In school, he was getting zeroes, far below what the quiet, intelligent young boy was capable of. The world seemed much smaller and closed up to Jagdish. This deeply worried his guardian, Madam Beba. Something had to change. Madam Beba first got wind of SINDA Tutorials for Enhanced Performance (STEP) through Niyaz, who thought STEP
might help improve Jagdish's grades, and Madam Beba desperately agreed to give it a shot. Little did they know that change was about to happen.
As Jagdish attended STEP, he started to meet new people. He was beginning to make friends, engaging them more than he had ever done before. Niyaz and Shahim were also in the programme, and the walls that surrounded him started to come down. He was opening up.
His grades also started to improve. He liked studying with his friends. It motivated him. His teacher, Ms Devi patiently encouraged him every day, working closely with him when he needed it. The environment the programme created was exactly what he needed to excel. What used to be zeroes are now stellar A's. He finally found his stride. In the 2014 PSLE, Jagdish, after months of dedication and hard work, was awarded Best Overall in the Joint Tuition Awards which recognises the academic achievements of students. The entire STEP family was so proud of him that they threw the biggest, most exciting birthday party he's ever had!
Jagdish is no longer the same person he used to be. He's more driven and has more friends. A self-confessed computer fanatic, he shares his passions with Niyaz and Shahim. Madam Beba noticed the change in Jagdish, and she couldn't be happier.
"SINDA came at a right time when my boy was about to break both academically and emotionally."
Jagdish intends to follow his passion and become a software engineer, and hopes to be an inspiration to students with disabilities all over Singapore.