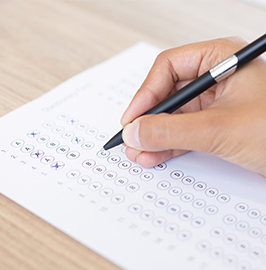 Recently, the Ministry of Education (MOE) announced that there would be a reduction of school-based assessment.
Specifically, MOE will be doing away with year-end examinations for Primary 2 students, and also removing the mid-year exams for Primary 3 and 5, as well as Secondary 1 and Secondary 3 students. This will be implemented in stages from 2019 – 2021.
Schools will also conduct no more than one weighted assessment per subject per school term and report books will also no longer reflect the level and class position of the students.
Overall, the response to these moves has been positive. Those who have been concerned that our education system is too stressful have welcomed these announcements. Some however, feel we have not gone far enough. They call for the removal of all exams, including PSLE.
On the other hand, there are some parents and teachers who are worried that we have gone too far. They fear that we may now be too lax. Some parents are also worried that with these moves, they will not be able to tell how well (or badly) their children are doing in school.
These different reactions show just how challenging MOE's work is.
Nevertheless, it is important to understand what MOE's objectives are in making these moves and why they are doing this.
One common thing I have heard people say after the recent changes is: "Now that grades and academic achievements are no longer important ….".
That is not the case at all.
MOE is not saying that grades or academics are not important. What MOE is saying is that there should not be an over-emphasis on grades or academic achievement. We think that the pendulum has swung a little too far with the emphasis on tests and exams. Continuing assessment is good but with each test added on, the benefit gets smaller and smaller and beyond a certain point it becomes counter-productive. We are not cutting back on rigour, but we do have some room to cut back on assessments and this is what we have done.
Academic grades are important to get an indication of a student's ability and grasp of a subject. However, they are not the be all and end all of a child's worth. There is much more to a child than his or her grades. In real life, as we all know, they will need much more than just academic grades to do well. Good character, good values, leadership ability, teamwork and other skillsets matter just as much and in some cases, even more.
For the parents who are worried that without mid-year exams they will not know their children's prowess, rest assured that the weighted assessment per subject per term will still provide a good guide for their child's progress.
At the same time, we cannot do away with exams completely because it is still necessary at regular intervals to get a sense of how the child is doing and whether they have a good grasp of what they have learnt. The key is to not overdo it.
MOE's goal is to strike the right balance. We want our children to have a strong academic foundation and at the same time we want to ensure that they are developed holistically with all the attributes indicated above. Above all, we want them to experience the joy of learning and to have the right motivation in doing so. Tests and assessments have an important function but they are not the end goal of education.
The removal of the mid-year exams and additional tests will free up about three weeks of additional curriculum time. Teachers and parents are urged not to rush to fill that up with more work and assessments but rather to allow the children to explore what they have been taught, in greater depth. This will lead to a deeper understanding of the subjects and also give them some additional breathing space which is necessary for a balanced school life.
This is not to say that students who are underperforming and not doing well should be allowed to continue doing so. We want everyone to do well. So those who do have difficulties with their subjects would be encouraged to use the extra time to catch up and gain a better understanding of their subjects. Indian students who need help with their school work should feel free to tap on SINDA's educational programmes like STEP, TEACH and Project Guide.
I hope this helps to put MOE's recent moves into perspective, and that parents, educators and MOE will all join hands in this endeavour to get the balance right for our children.
Reproduced from a monthly column where pertinent themes and concerns relating to the Indian community are discussed by Ms Indranee Rajah, Minister, Prime Minister's Office, Second Minister for Finance and Education and President, SINDA.