Uplifting Youth
---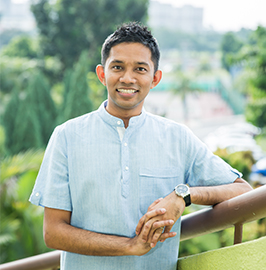 Volunteering at SINDA has become an integral part of Jeremy Aruldoss's life. He first volunteered with SINDA through the SINDA Youth Club (SYC) in 2013. Over the years, he has volunteered for initiatives such as the SINDA Youth Leaders Seminar and the SINDA Young Leaders Programme. In 2014, Jeremy initiated the SINDA Sports Initiative (SPIN), a six-month fitness programme that encourages youths to lead healthy lifestyles and cultivates their mental, social and physical well-being through customised fitness sessions.
"With SPIN, we hope to build bonds and foster friendship and mutual understanding among the youths through their involvement," said Jeremy.
For his dedication and commitment to uplifting Indian youth, Jeremy was commended at the SINDA Appreciation Ceremony 2018, an event that honoured community partners, schools and volunteers for their selfless contributions to the Indian community.
Currently a member of the SINDA Volunteer Management Resource Panel, Jeremy helped implement SINDA's Literacy and Numeracy Programme (LYNN) at Bukit Merah Community Club, where now, more than 35 pre-schoolers are attending weekly sessions for English, Maths and Tamil.
On how he has benefited from volunteering, Jeremy shared: "There's value for both the volunteers and beneficiaries, and it enriches our lives by allowing us to understand and learn from each other's perspectives. Volunteering provided me with opportunities to contribute and hone various skill sets, such as facilitating events and approaching people with empathy – skill sets that I passed onto other youth to empower them."
---