You Can Make a Difference
---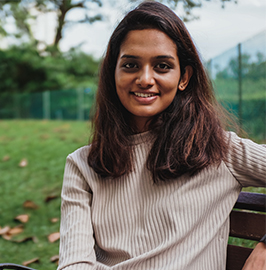 "If you would like to see a positive change in society, do something about it. Don't blame society for the way the world is, because YOU are part of the society and you have the power to make a difference."
This very piece of advice that Yashaswini R, 21, received from one of her mentors made her want to do her part for the community. She signed up as SINDA's Project Read volunteer earlier this year.
Project Read is a home-based reading programme that provides children aged between four to nine a head start in schools by equipping them with basic reading skills and instilling in them a reading habit from an early age. She was paired with a K2 student and made time to make regular home visits to read to him and help him improve his linguistic skills.
Yashaswini had to go back to basics and teach him phonics very thoroughly for a good three months before progressing into other stages of reading as her student was having much difficulty in comprehending even simple words. She knew she had to brush up his reading before he starts Primary 1 next year and she worked hard at it.
"Towards the end of his K2 year, his teacher cited that his reading and oratorical skills had improved drastically. Hearing that was truly satisfying – knowing that the child now had the confidence to speak in complete sentences while being able to read and pronounce words eloquently made me feel like I really was able to make an impact."
Yashaswini realised she enjoyed this experience of being able to positively impact the lives of others. She volunteered to be a part of SINDA's Door Knocking Exercise as well. Being a final year university student meant that she had to juggle school work and other commitments too but she did not let those stop her from wanting to help others. It is indeed possible to do your part for the community, in ways within your means, as long as you have the desire to make a difference.
---